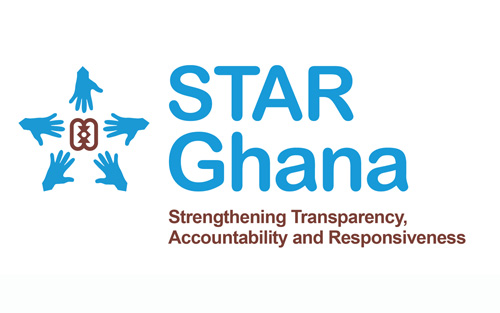 STAR-Ghana is a multi-donor pooled funding mechanism (DFID, DANIDA, USAID, EU) to increase the influence of civil society and Parliament in the governance of public goods and service delivery with the ultimate goal of improving accountability and responsiveness of Ghana's Government, traditional authorities and the private sector.
Title 1: Strengthening HIV programming using ICT and improving quality of treatment and care through effective management
Timeframe: 2013 – 2015
Donor: STAR-Ghana
Geographic scope:
Ga East District, Lejor Kuku District, (JamesTown), (Chorkor); in the Greater Accra Region;
Keta Municipality in the Volta Region;
Savelugu- Nanton District in the Northern Region
STMA in the Western Region.
Cape Coast in the Central Region
Project Description: Findings from various surveys such as a 2012 cross-sectional survey conducted in 3 administrative districts in Ghana, a study in 2005 that compared the stigma felt by Ghanaian males living with HIV to that felt by African American HIV + males, and WAAF's own experience from the field indicated high levels of stigma towards Key Populations at risk for and living with HIV throughout the health care profession. This often led to Persons Living with HIV (PLHIV) feeling that they received sub-standard treatment, were discriminated and misinformed at ART centers, all leading to high numbers of lost to follow-up cases, delays in seeking treatment with all the negative consequences. This coupled with a knowledge deficit in health information and referrals among especially certain Key populations often led to negative consequences such as individuals not seeking health care treatment or waiting until they were very sick. This was a serious problem given the necessity for proper care in combating HIV. Equally, as of 2013, Spectrum/EPP modeling estimated 224,488 persons, made up of 189,932 adults (85%) and 34,557 children (15%), were living with HIV and AIDS (PLHIV). Sadly in 2013, 10,074 people died from AIDS including 2,248 (22%) children 0-14 years; 472 of the children who died were infants of 1- 4 years of age. Although specific numbers could not be associated, one could not help but recognize the vast number of individuals that needed stigma and discrimination-free care but who were not receiving it. This lack of proper care was a significant barrier in preventing HIV/AIDS-related mortality and morbidity. As a result, WAAF embarked on the project to try and combat HIV-related stigma in the health care setting using various approaches.
Goals/Objectives: 1) Increasing the numbers of Men who Sleep with Men (MSM) accessing health information and referrals for treatment using mobile phones (mHealth) where the target group received health information and referrals through live educational sessions and subsequently recorded information dissemination. 2)Acquiring a document containing experiences of MSMs and PLHIV's with healthcare professionals as well as grading selected treatment centers by the target groups themselves in terms of quality and friendliness of services rendered there. 3)Improving the quality of treatment and care of both Men who sleep with men and persons living with HIV at selected treatment centers, through training of Health care workers.
Results/Outcomes: The overall outcome of the project was anIncreased number of Key population members from across Ghana accessing Health information and treatment referrals & Improved client-friendly healthcare services at selected Anti-retroviral clinics (ART) in 4 regions of Ghana and with this, the significant changes seen are: Overall, WAAF is proud of the significant changes this project was able to bring to pass. As of now, more health care workers from various ART sites are conversant with the specific health needs of key populations which have led to the provision of enhanced quality care in terms of HIV-related stigma as depicted by the mystery client exercise conducted.
Title 2: Implications of the emergence of the oil and gas industry on HIV in the Western Region:
Geographical scope:
Sekondi Takoradi Metropolis
Ahanta West District
Ellembelle District
Project Description: The discovery of oil and gas in the Western Region created an avenue for increased economic and social activities resulting in the importation of different cultures and values from people coming from within and outside the borders of Ghana. The oil discovery brought together different kinds of people to work to share in the opportunities presented by oil production. These included commercial sex workers, men who have sex with men, single men, and expatriates. Within the context of HIV spread, the movement of various groups of people into the oil-producing communities had the potential to increase HIV transmission which would have a negative impact on community development.
Goal and objectives: This project, therefore, sought to contribute to efforts to avert any possibility of an increase in HIV transmission as a result of the oil discovery using different approaches namely: by making sure that community members are well informed and well sensitized to practice safer sex, encourage community participation in the battle against the spread of HIV and also to enhance effective treatment with a structured referral system/network. The overall outcome of this intervention was to ensure that Ghana's oil discovery did not become a reason for increased HIV prevalence in the Western Region.
Results / Outcomes: The project has led to a significant increase in in-depth knowledge on HIV related matters especially in connection with some socio-cultural changes that have come about as a result of the oil discovery in the Western Region.
It has also encouraged behavior changes among some community members in terms of high-risk lifestyles and an increase in community members going in for STI screening as shown by the number who participate in outreach screenings and health facilities report showing an increase in a number of community members accessing voluntary testing and counseling in their communities.