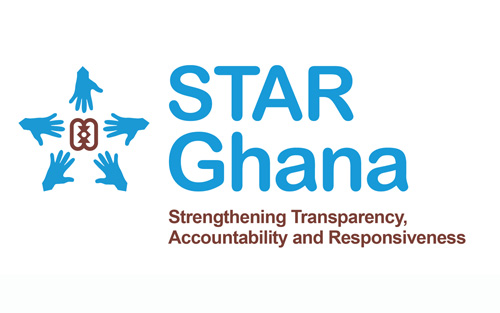 Project Name: Not in our Name – Tackling extortion in the Ghanaian health care system
Donor: STAR-Ghana (Now STAR Foundation)
Partners: WAAF, as lead and co-implemented with Hope for Future Generations (HFFG) and Socioserve Ghana (SSG).
Project Timeframe: 2 years – 2018 through 2020
Geographical Scope: The project was implemented across 6 regions of the country. Each implementing partner focused on 2 regions and the 6 regions were:
Greater Accra Region – managed by Hope for Future Generations
Central Region – managed by Hope for Future Generations
Volta Region – managed by Socioserve Ghana
Eastern Region – managed by Socioserve Ghana
Northern Region – managed by WAAF
Upper East Region – managed by WAAF
Project Objective: To reduce the occurrence of corruption within private and public healthcare systems through:
Addressing the root causes of extortion in the healthcare sector
Increasing the exposure of corruption
Increasing client confidence in healthcare system delivery
Improving the overall quality of care
Rationale for the Project: Extortion within the healthcare system is harmful towards the health of the public in general, and the impact is particularly acutely felt by the poorest individuals who are easily exploited due to their lack of knowledge of their rights, including people who do not speak English. Those who live in rural communities who may have made a long journey for medical attention then face a choice between paying a higher price than they had anticipated or can afford for treatment or going home with their problem unsolved.
Those who cannot afford to pay the bribes for quicker treatment are pushed down the queue, which can make serious health issues worse. Often this can include People with Disabilities – PWDs or people living with chronic conditions who many a time face stigma and discrimination such as those living with HIV. The health of women and girls may not be prioritized in such a situation in farming households where male family members provide financially for the rest of the family.
Corruption within the health service decreases the efficiency and quality of care for all patients and diminishes trust and confidence in healthcare workers
Extortion at the point of use within both private and public sectors can take several forms. These include:
Demands of unapproved and unnecessary fees by healthcare workers, without issuing of official receipts;
Healthcare workers referring patients to private facilities or services where suitable public alternatives are available – 'quiet corruption';
Doctors vacating or using paid hours for locum;
The extortion of bribes in order to be treated more quickly;
Demands for payment for items covered by the patients' insurance; and
Unnecessary overnight admission of patients for profit
Evidence to support the need for such a project: Studies have been conducted including a 2012 KNUST paper 'Corruption in Ghanaian Healthcare System: The Consequences', which focused on patient experiences of corruption in the Ashanti Region. The paper concluded that 'quiet corruption' is endemic, with doctors viewed as the most corrupt workers in the healthcare system. This can and does lead to loss of life resulting from delay in medical care and/or lack of financial capacity. WAAF and its partners believe – When patients are dying as a result of corruption, we must act.
Progress so far: Having kicked off in March 2018, a baseline study to ascertain the actual status of monetary extortion from patients in the selected districts of the project took place, and the findings were presented to key stakeholders such as District health Management teams/Directors, National Health Insurance Schemes and other key stakeholders during a stakeholder meeting. Community entry exercise followed which ensured knowledge of and understanding of the project by stakeholders for buy-in and support.
Results/Outcomes: Working with management of the various health facilities in the project regions, causes of why petty corruption occurs were identified, and together remedies to stop these were sought. Further taking management through staff welfare and reducing the fear of staff seeking support from supervisors and management ensured enhanced working relations which the project hopes will help minimize the extortion of clients as they go through the departments of the hospitals.
Additionally, by supporting departments who were scored by clients for satisfactory services provided, the project hopes that these will also motivate staff to continue servicing their clients in this new manner. Community champions put in place by the project and who act as a place where citizens can report dissatisfactory services and/or perceived corruption and who work hand in hand with facility staff have also ensured enhanced service delivery at healthcare facilities.